{Day 10}
12 Days of D.I.Y. Christmas Gifts
with essential oils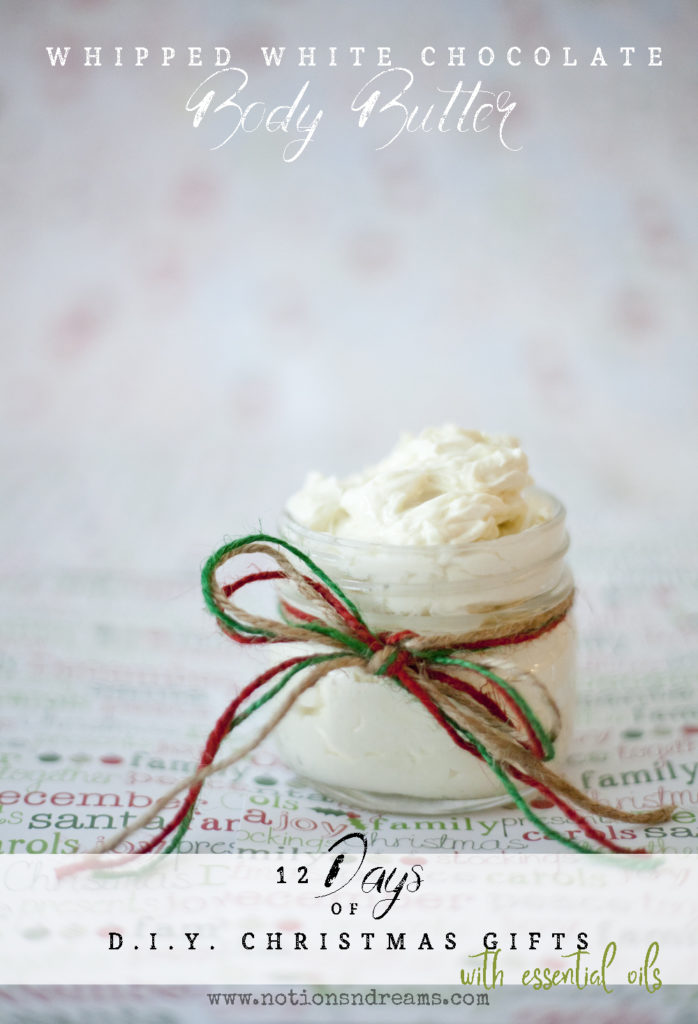 ~ D.I.Y. Whipped White Chocolate Body Butter ~
My mouth is watering as I write this. This stuff is simply AMAZING. It smells HEAVENLY! Just DO NOT EAT IT….I am telling you this because it is SO tempting…oh so so so tempting.
Not only does it smell heavenly, it also has some great benefits to your skin, amazing right?? The ingredients (especially Shea and Cocoa) are often used to remedy dry skin and to help protect the skin's natural oils.

So apply as needed to dry skin anywhere on your body and enjoy!
What you need:
Instructions:
Combine all ingredients except the essential oils, in a double boiler. Gently melt and stir over medium-low heat until mixture is liquid.
Remove from heat and allow the mixture to partially solidify. You can place this in the fridge to speed up the process.
Once the mixture is partially solidify, add the essential oils of your choice and whip it up with a hand mixer or stand mixer until body butter is creamy and fluffy.
Scoop the finished body butter into a cute little jar.
Notes:
You can make your own double boiler by placing a large glass bowl over a pot of water. Be sure the water does not touch the bowl itself.
Chilling is crucial! If you can't wait patiently for it to solidify in the fridge (like me), you can place it into the freezer (but don't forget it in there!) If it doesn't chill enough, it won't whip up fluffy.
You can easily store your whipped body butter at room temperature. However, if it gets really hot in your home, it may melt. If this happens, just re-whip!
You are more than welcome to leave out the coco butter out for plain body butter instead.
Suggestions for oils: Peppermint would go well with the cocoa in this recipe. Lavender, Frankincense & Orange, Lemon, Bergamot, Citrus Fresh, Geranium, are all great oils to try!