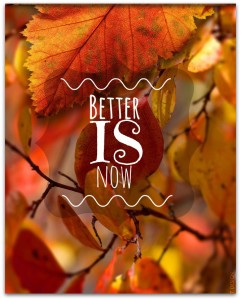 As I eagerly await fall coming (these high 80 temps are NOT helping), I am reminded that my sunlight days are shortening and it makes my chest tighten. Don't get me wrong, I LOVE LOVE FALL weather but I HATE HATE that we lose daylight.
Every year I get this feeling of anxiety because if I am ever out and about, I have to make sure I am home by 4:30pm if I am driving. I literally count out the hours I have left when I go out shopping (or out with friends) It could be 10am and I feel like I am racing the sunlight. No wonder I get SOOOOO tired when I go out shopping (btw, I hate shopping and my husband does it 99% of the time for us – he's amazing!). I think this has made me more of a homebody since this started happening many years ago. Well, that's okey because at least I enjoy being home! BUT it is refreshing to be out and about, especially being with friends.
This past week my eyes haven't been very strong because I had the flu and when my body is weak, my eyes do not  focus well. I continue to pray every night before bed asking that the Lord heal my eyes. I do not know when this will happen but I have faith that it WILL in God's timing (could that be in my lifetime or tomorrow or 20 years or??)
My sister and I just discovered this band called The Vespers and yesterday I found this song that really touched me in a personal way. The song was written about the blind man that Jesus healed in John 9
It brought tears to my eyes as I thought on these things…
I wished with all I have that I could see perfectly again.
Even when the truth is obvious (blind man to see), some will still choose to not believe
I realized after listening to the song, that Better IS now. I am better now because Jesus has already saved my soul. I don't need my eyes for that. That is the best gift anyone could want and I have it. It makes me overjoyed just thinking about that!
Lyrics:
Better Now
Written by Phoebe Cryar and Bruno Jones
Mama says I can't be healed
Papa says I'm through
They say I can't use my eyes
Will never be good as new
Oh but I'm better now
Why do you shake your head no
Oh but I met a man
Oh and He's saved my soul
You don't believe me when I say
The man you knew was blind
But Jesus told me He's the light
Then Jesus healed my eyes
Oh and I'm better now
Why do you shake your head no
Oh but I met a man
Oh and He's saved my soul
You ask again and again
Don't you believe
Lift up your blinded heart
He'll help you see
You could be better now
Why do you shake your head no
Oh and I met a man
Oh and He's saved my soul
You could be better now
Oh well don't shake your head no
Oh but I met a man
Oh and He's saved my soul
Oh and He's saved my soul
Oh and He's saved my soul