The STORY: (sorry it's a bit long)
I had ordered a bunch of ink for my printer a few weeks ago and it still hadn't come. I contacted the seller on amazon and advised them of the situation. The seller replied that they lost track on what package went out and were sooooo sorry! They said they would send it out ASAP. SOOOOO…..I am expecting a package from NewYork from this ink seller.
YESTERDAY: My husband came home last night and told me there was an UPS note on the door. "AWWWWWWW" I replied. "I always miss them!" Even if I am in the living room, sometimes I just do not hear their knocks. I was bummed because this happens a lot. OH WELL. I then wrote a note with my signature saying "I am partially deaf, I may not hear you knock, Please leave package at the door. THANK YOU! – Andi H." I saw that the note said New York so I KNEW it was my ink.
TODAY: It was about 10am and I thought to myself, I should check the door to see if UPS came and left the package. To my happiness, it was there. YAAAAH!!! INK!!!! I grabbed the scissors, sat on the floor, and started opening the box. As I pulled the flaps over I thought to myself "Wow, this person really did a good job packaging these inks", but I started getting confused as I pulled away giftcards and shipment paper info (mind you, I wasn't paying attention to WHAT the giftcard was for) and then sat there and stared at what was actually in the box….a camera, not just ANY camera, it was T H E
Canon EOS 5d Mark II
My DREAM CAMERA!
The camera I thought I would not ever have because by the time I could actually afford it, I didn't think that I would be able to see. (Doctors have recently confirmed that it could be decades before that could happen so then I started to have hope that maybe, just maybe)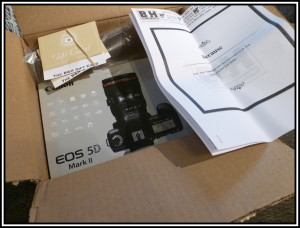 I gasped "WHAT?! Oh My Gosh" and tears started steaming down my face. I then quickly grabbed the papers and a beautiful note that read,
"BECAUSE – Andi, Your tremendous faith has encouraged us all.
God bless you and your family."
I saw the name of one of my Joshua brothers on the packaging slip and then I just started bawling. I couldn't' breathe!! I knew then that my Joshua Family was apart of this amazing gift and I was in complete mess of tears. Tears of feeling loved, of a dream coming true, of a reminder that God takes care of me no matter what! I am still crying and I am still shaking as I write this!!!
I semi gathered myself and then saw that there were gifts, $1,020. I cried again!! I could now get the lens I was just telling my husband about the other night! Some friends of mine want me to take a family photo of them and now I can do that with a lens that I knew would work well.
WOW. WOW. WOW!
Everything has its perfect timing. PERFECT. At this time I still hadn't taken the camera out of the box…why? Well, I totally woke up the baby and had to go get him. HAHA!. His face expression said …
"What is wrong with you mama?? Why are you crying??"
So I told him, "There are happy tears my love!"
I called my sister up because we had been texting back and forth this morning and she told me the whole story of how one of my Joshua Brothers and his wife put together a fundraiser online to help make my dream come true. There were family, friends, and people I didn't even know donating and praying for me! Oh many many more tears!
I am amazed at my God. I am amazed at my awesome friends and family. I am so thankful from the bottom of my eart for each and every single one of you who made this happen.
THANK YOU! THANK YOU! THANK YOU!
You all have most definitely blessed me and my family. AAHHHH I am so excited to explore my new camera!!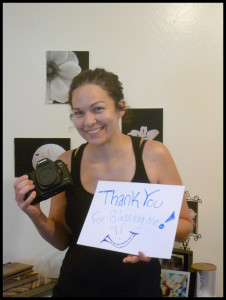 My sister came over and I was finally able to open up the box! I took one photo from it and was in awed at how well it turned out. It sure makes a difference when you have a good quality camera. Oh and then the tears almost stated again!!
HAPPY HAPPY HAPPY
My Dream Has Come True !!!