{Day 4}
12 Days of D.I.Y. Christmas Gifts
with essential oils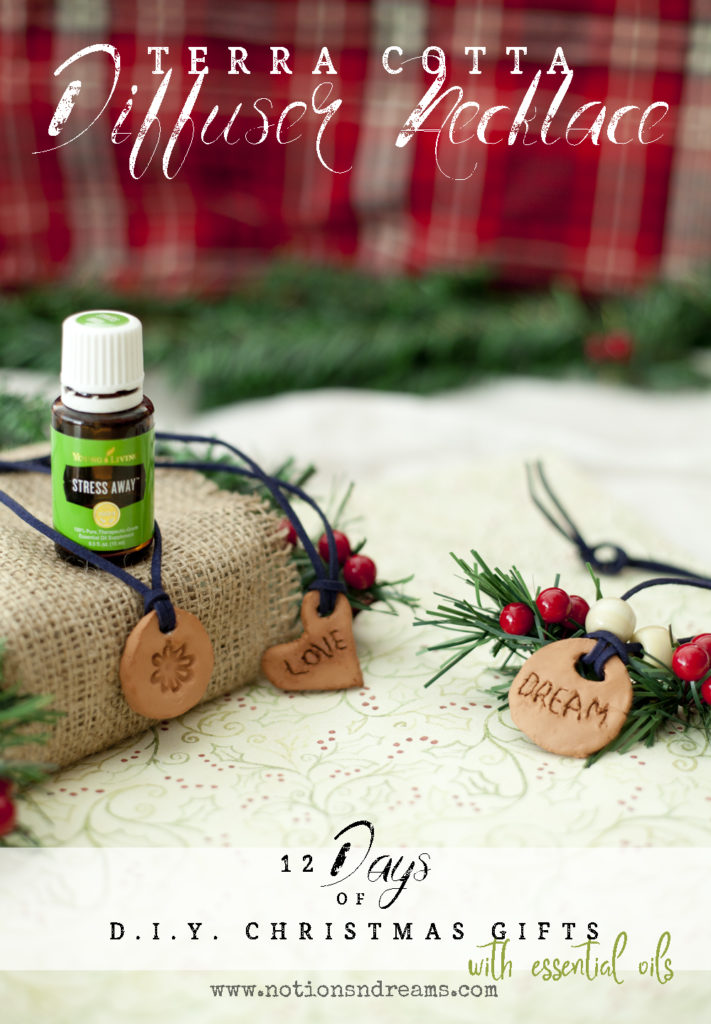 ~ D.I.Y. Terra Cotta Diffuser Necklace ~
On the FOURTH day of Christmas my True Love gave to me……..a transportable diffuser!
Do you like to do crafty things? Then this would be a wonderful gift to make! Just drop some oils on the clay when you have gotten the shape and design you want and you have made yourself a perfect diffuser necklace.
I honestly thought this would be hard to make. That was so silly of me!  This was ridiculously easy! The clay itself is super forgiving so if you do not like the design you make on it…you just wipe it away with your finger OR roll it into a ball and start all over….but it WILL harden so you don't want to take too long.  Have fun! I know I truly enjoyed making these. 🙂
What you need:
Any Shape Stamp
Any size lid or cookie cutter to use as a cut-out
Toothpick or sharp object
String for Necklace
Young Living Essential Oils
Instructions:
Cut/Mold Terra Cotta Clay to whatever shape you wish. Poke a hole for the string to go through. Bake or Air-dry according to directions. After it has cooled down, you may need to smooth the edges with a file. When it is complete, put a drop of your favorite oil on the clay to last you throughout the day!
Suggested Oils: Christmas Spirit, Stress Away, Orange, Joy, Lavender…there are endless choices!
Note:
Include some sample dram bottles of essential oils to go with the diffuser necklace gift.
Other ideas you can use the clay for: Christmas Tree Ornaments, Hanging Car Diffusers, and Bracelets!