{Day 2}
12 Days of D.I.Y. Christmas Gifts
with essential oils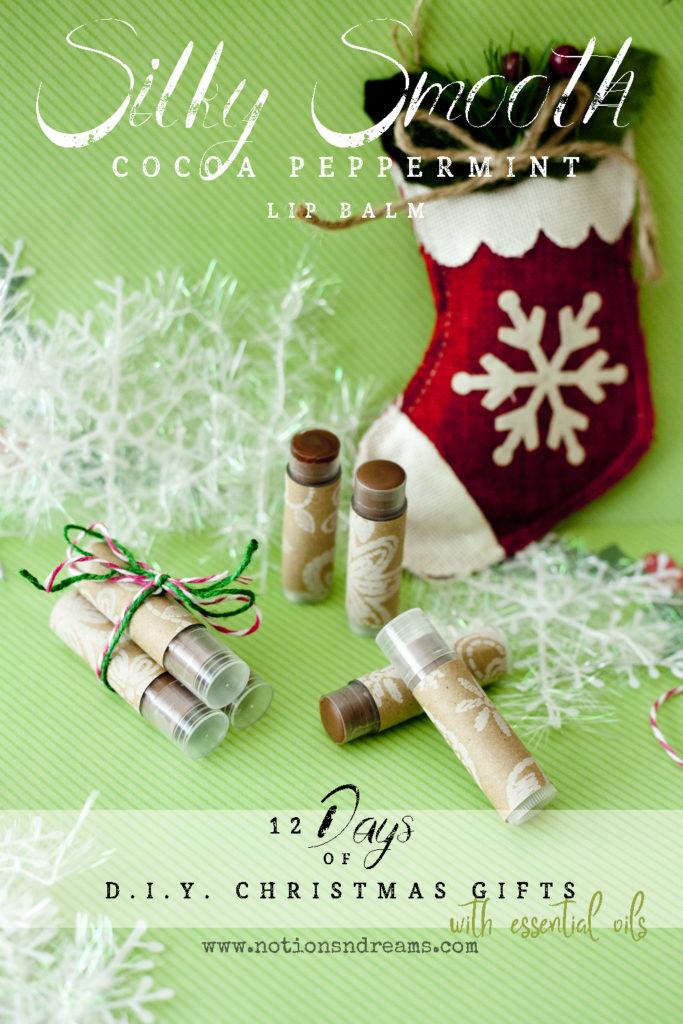 ~ D.I.Y. Silky Smooth Cocoa Peppermint Lip Balm ~
Just reading that makes me want to eat it all up! Lucky for us, if that were to happen…it's all safe and natural. HA!
This is  perfect gift to add for stocking stuffers, include in a gift basket, or a little extra to tie onto the Christmas gift box. Who wouldn't want this delicious, I mean, smooth, silky, nourishing lip balm???
You know how sometimes you put on chap stick and you feel like you need to put it on again a half hour later? NOT this stuff…this lip balm lasted me for hours!  I love that the peppermint gives it a natural plump to your lips, everything else nourishes, and the cocoa powder gives a tiny hint of color.  I am telling you…you MUST MAKE THESE! Save one or two for yourself.
Mmmmmm Mmmmmm Mmmmm
What you need:
Instructions:
Place beeswax in a double boiler on the stove.
Melt over medium heat. Once the beesmax has melted, turn heat to low and add coconut oil, shea butter, and cocoa butter. Once everything is melted, remove from heat and add honey, cocoa powder, Vitamin E oil, and Peppermint Essential Oil. Whisk to combine thoroughly.
Pour carefully into lip balm tubes and allow to cool before capping. ***RESIST the urge to touch the top of the lip balms! No one wants finger prints on their gifts.***
Makes about 50 plus lip balm tubes. (you can always cut down the recipe if you don't want to make this many lip balm tubes)
Smack them lips and show them off!
Notes:
You can make your own double boiler by using a large glass bowl and place it over a pot. Be sure the water does not touch the bowl.
Others have used a candle pitcher and placed it in a double boiler and poured it straight into the lip balms. I, however, used one of those children medicine syringe and it worked perfectly! Just need to do it quickly before it hardens.