{Day 7}
12 Days of D.I.Y. Christmas Gifts
with essential oils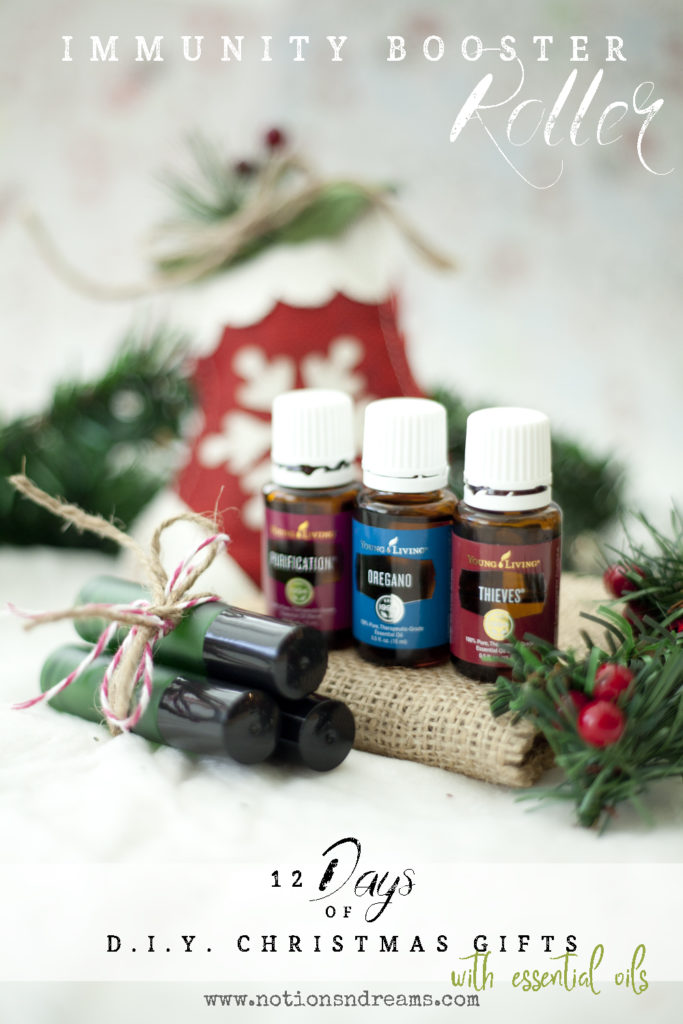 ~ D.I.Y. Immunity Booster Roller ~
On the SEVENTH day of Christmas my True Love gave to me….an entire winter SICK FREE!!!
Wouldn't that be nice?  Essential oils are not a guarantee you will not get sick, but it can certainly cut the sickness time in half by supporting your immune system (as it has for me and my family if you catch it just right). The list of remedies I personally do on a daily basis when not feeling well are:
drink lots of water
take vitamin C
drink O.J.
apply oils on bottoms of feet every two hours
drink Thieves tea
drink 1-2 oz of Ningxia Red
and best of all…REST.  Sleep is so crucial when trying to fight a sickness so be nice to your body and allow yourself to REST!
These are great stocking stuffers! A wonderful way to help boost the immunity system and keep germs at bay. Quickly put a few of these together and give the gift of health!
What you need:
10 drops Young Living Thieves Essential Oils
5 drops Young Living Purification Essential Oils
3 drop Young Living Oregano Essential Oils
10ml Glass Roller (I usually get mine from abundanthealth4u.com)
Carrier Oil (Fractionated Coconut Oil, Grapeseed Oil, etc)
Instructions:
Put all oil into the 10ml glass bottle and then top it off with a carrier oil. Swirl it around and it's ready to use.
Apply it to the bottoms of the feet whenever you go out or whenever you don't feel so good.
Note:
Sometimes I like to add 5 drops of Young Living Essential Oils for an added boost